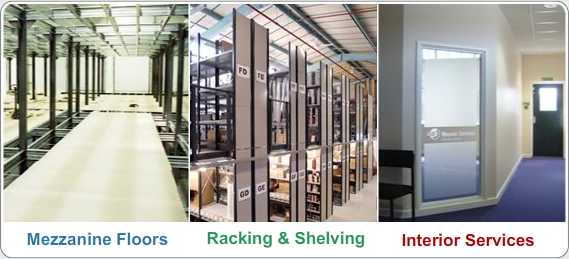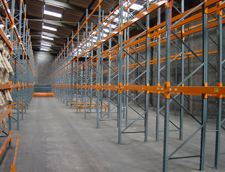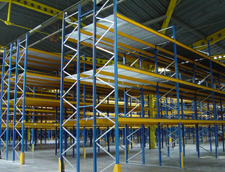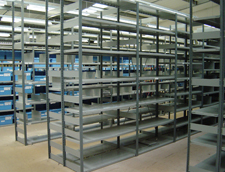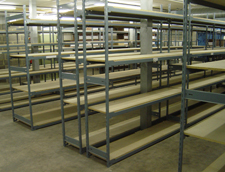 New & Second Hand Shelving

Cardiff, Newport, Swindon
We provide many types of shelving and pallet racking for commercial businesses, which can all be manufactured to each customers' specifications. We also provide a wide variety of second hand shelving & racking. Our professional and free planning service will provide our customers with a cost effective and simple solution to their shelving or racking requirements. All of our shelving and racking units are installed by our experienced and professional installers and will cause no inconvenience to the customers.
As well as supplying and installing racking & shelving we also carry out racking inspections & racking repairs to make sure there are no structural defects or damage which could lead to racking collapsing.
Second Hand Racking

Standard Pallet Racking - A system which allows access to any pallet without having to move other pallets.
Narrow Aisle Racking - Ideal for sites where space is minimal. Easy access for forklift trucks.
Drive-in Racking - Very high storage density, optimising existing space. Ideal for storing batches of palettes such as paints.
Double Deep Pallet Racking - Allows pallets to be stored two deep but still accessible from the same aisle.
We offer detailed project advice including materials, fork lift truck and handling guidance.
Shelving
Construction Angle - Slotted Angle is the no-nonsense, hard wearing, multi-purpose construction system that lets you custom build shelving, trolleys, benches, partitioning and framework simply and effectively. Versatile, Economical, simple - all you do is cut and bolt together. No welding, painting or drilling is required.
Standard Industrial Bolted Shelving - Constructed of heavy gauge steel, easily assembled and designed for industrial use.
Adjustable Steel Shelving - Simple, tap together, cost effective, adjustable, general purpose shelving with unrestricted access to all sides. Beams are simply tapped into the uprights with the aid of a rubber mallet to create a strong structure onto which steel or chipboard shelves are located.
Longspan Shelving - Ideal for storing small components to heavy boxes. Easy to assemble and can support even weights up to 1000 kg.